Discover how I renovated an abandoned garden shed used as a storage space and converted it into a lovely guest house to rent out on Airbnb.
This outbuilding of 35 m² located at the rear of a beautiful old stone house – see the renovation of the house here – was in very poor condition. Given the price per m² in the Paris region, it was wise to rehabilitate and convert this garden shed into a guest house in order to be able to receive family, friends or even for seasonal rental to earn an additional income. Some renovation work had already been started by the previous owners but had never been completed. Roofing, insulation, windows, interior partitioning, we had to renovate everything.
The exterior refurbishment of the shed
The roof was completely redone and sturdy clay tiles replaced the old metal roofing panels. The Velux roof windows were renovated and the entrance doors were replaced by glass doors in order to bring more light, as there were no horizontal windows in the outbuilding, except in the bedroom.
The exterior walls were renovated and covered with beige plaster, which completely transformed the appearance of the shed.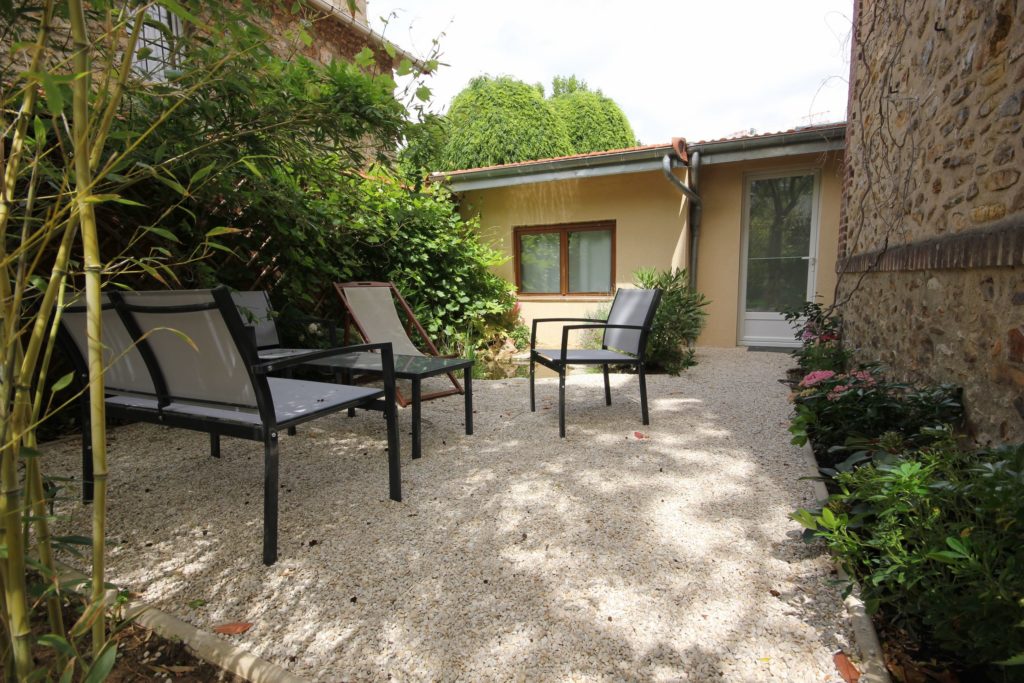 The interior renovation and layout of the guest house
To avoid potential humidity problems, I chose to put tiled flooring in all the rooms of the outbuilding:
Wood-look tile in the living room, bedroom and kitchen, to bring a warm atmosphere to these spaces. We didn't need to add any join filler between the tiles, since we didn't need them to be waterproof, and it therefore really made the floor look like real wood parquet;
Marble-look tile in the bathroom, for the chic and high-end style.
All the walls were isolated and paintend in white.
The living room and the kitchen
The space being all in length, it was necessary to choose compact, modular and shallow depth furniture. The scandinavian inspiration style furniture was privileged to optimize this space in a functional way and at lower cost.
The bedroom
In the bedroom, the accent was put on the decoration, and I chose a beautiful vintage-inspired bed with padded headboard, designer lighting, and a dressing closet.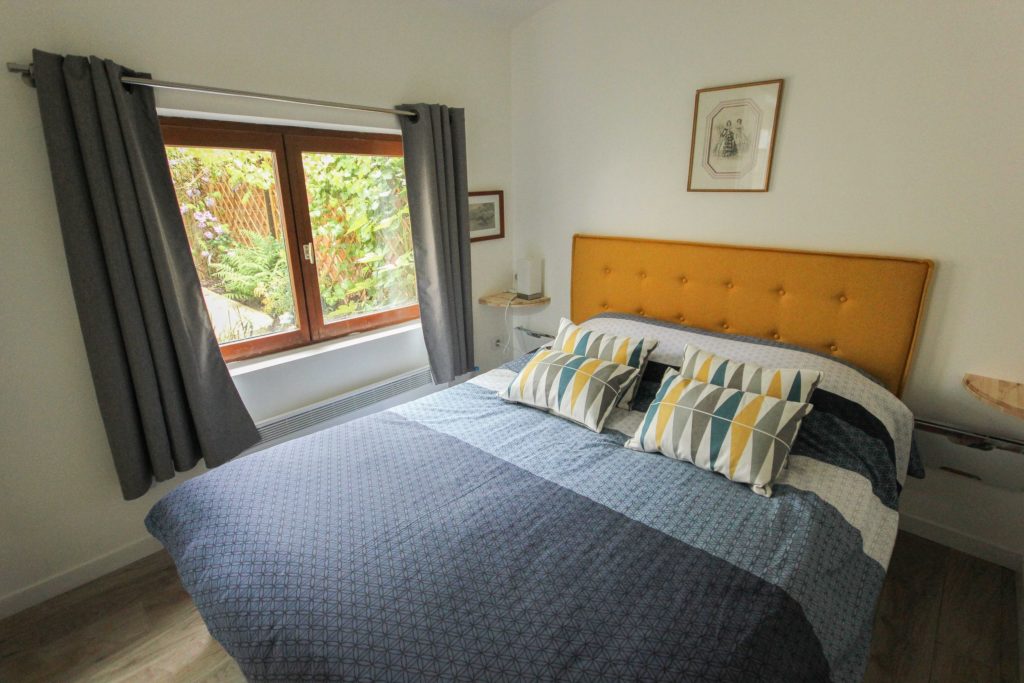 The bathroom
I chose to create a high-end spacious bathroom all in marble and with modern equipment (taps, wall-hung toilet, cupboards with mirrored doors, etc …)
The outdoors
A gravelled outdoor terrace, a pond and plantations put the final touch to the transformation of this shed into a lovely guest house.
---
Duration of the renovation work needed to convert the garden shed into a guest house: 3 months.
---
Before-After
Guest House
Projects
Renovation